So I dragged my mother and boyfriend to the Michigan Fiber Festival in Allegan today (never thought I'd hear the words "Sure, I'll come to the yarn thing with you" out of a guy). It was raining, but not as bad as I feared, and most of the vendors were indoors anyway. In any case, excellent haul. The picture is being obnoxious, but if you want to see number 11, right click and do "view in new window". Ugh.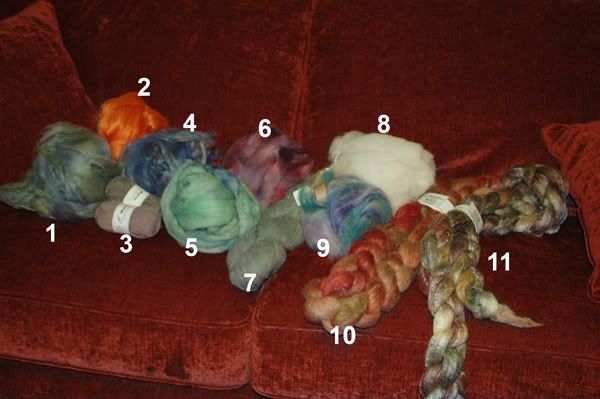 The key, for those who care:
1: Mohair. Not as soft as I prefer, but the price was right and the color so pretty.
2: Suri Alpaca/Merino/Silk. Really nice lustre.
3: Not actually from the festival, but a nearby knit/cafe place: Corn yarn!!
4: More mohair
5: Superwash merino
6: Merino
7: Wool, denim, "wool thrums", nylon (sparkle!)
8: Alpaca
9: Kid Mohair, very fluffy
10: Merino and Tussah Silk
11: Merino and Bamboo