So you can see what I'm starting with. I've got plans laid for some of these, lots of sketches and so forth...others are still waiting for inspiration. We will see what becomes of it all. My camera is having some sort of ridiculous crisis...a lot of the pictures came out with the yarn heavily saturated and the bedsheet behind it (which should be green, as you can see in some of them) almost gray...I've edited them to show the yarn colors pretty accurately, so just ignore the background. Ugh.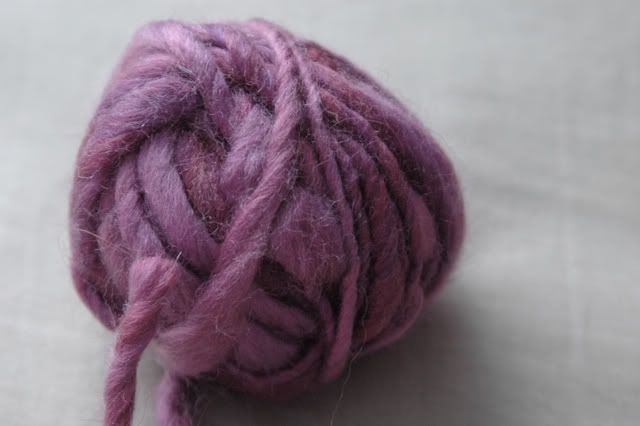 Trendsetter Yosemite in Raspberry Sorbet (she wore a raaaaspberry sorbet....)
Only a bit of this left, so I don't know what will happen to it or if it will get used at all. I could always unravel the mostly unfinished neckwarmer i used the rest of it on.
Tahki Star... likely to be paired with some other yarn in order to make something more sparkly.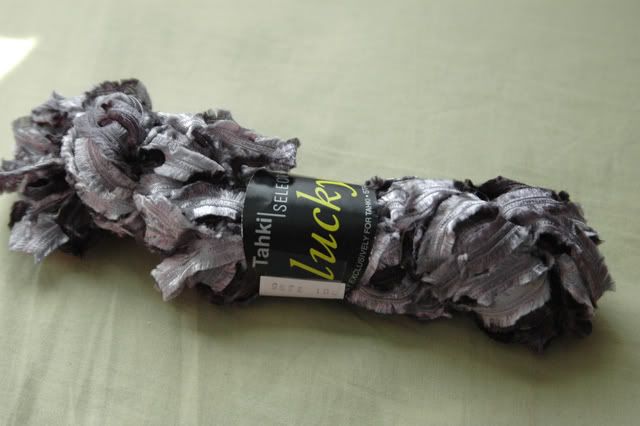 Tahki Lucky...I don't even really like this but I got it cheap, so I'll find a way.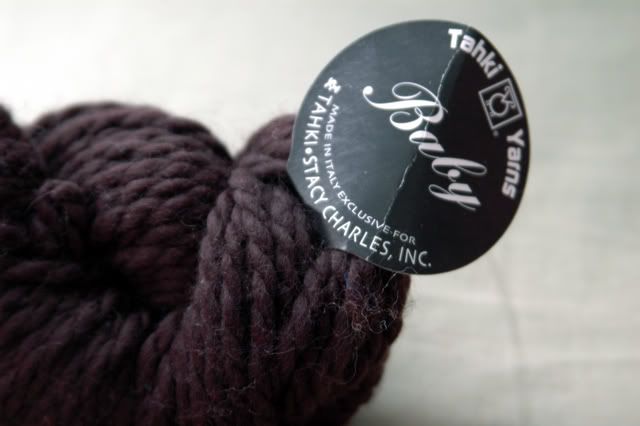 Tahki Baby in a nice dark brown. No plans really, yet. Most of these are single or double skeins and will end up as some sort of accessory.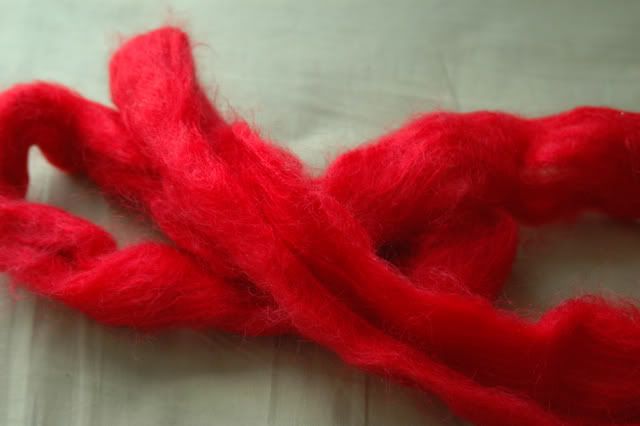 Mystery mohair. I'd like to use it but I'm hesitant to use something I can't identify....I just lost the damn label at some point. Dammit.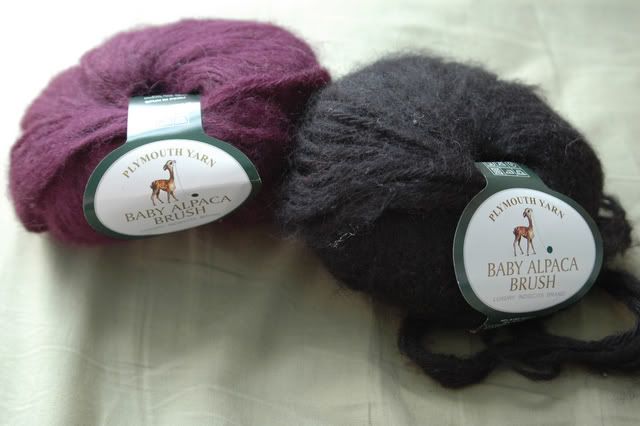 Plymouth Baby Alpaca Brush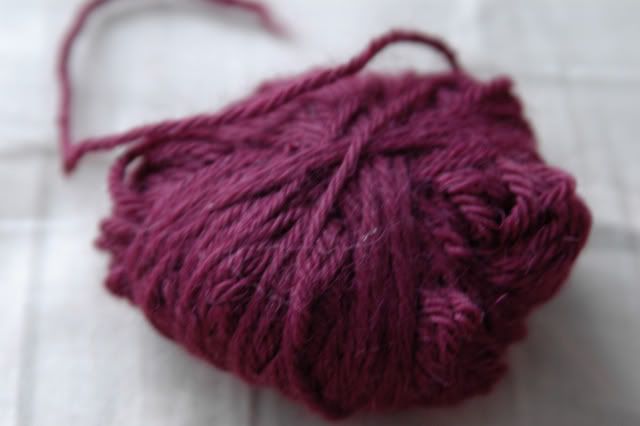 Nashua Julia in, I believe, Coleus...I've already used it for some wristbands that I didn't write patterns for, but maybe I'll make more.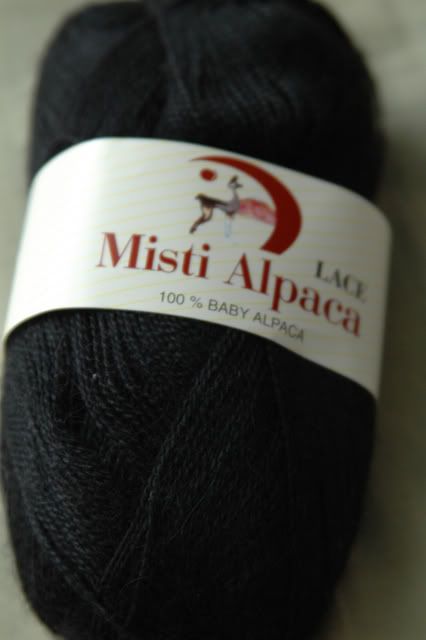 Misti Alpaca Lace, ideally for some lace bracelets or lace edging on other wrist/neckbands.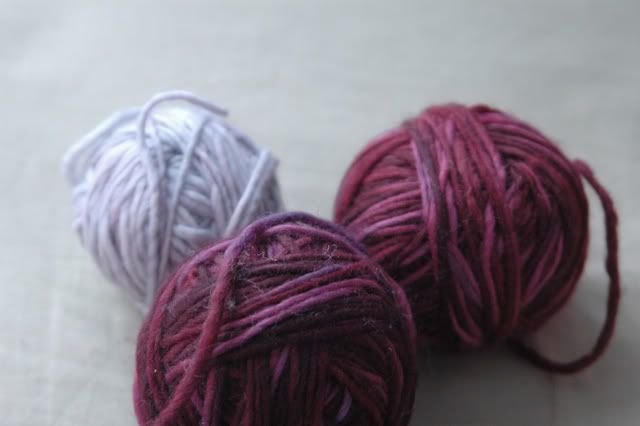 Malabrigo Merino in Velvet Grapes and Polar Morn...some of my favorite yarn ever. I already used this combo for a pretty awesome hat, I'm not sure what I'll do with it here, or if I'll even combine the two.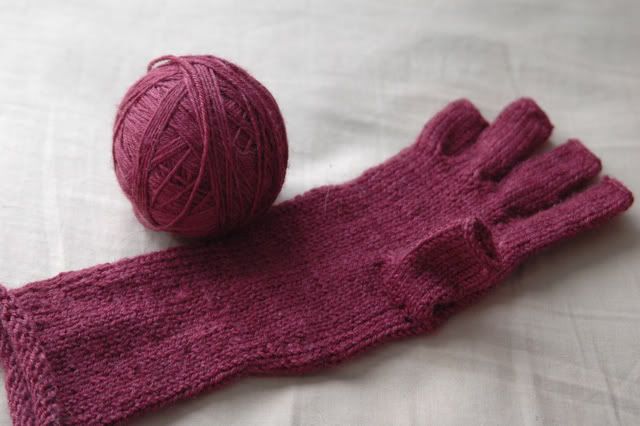 Lorna's Laces Shepherd Sock in, I believe, Chocolate (though it seems sort of reddish for that to be the color)...and one half of the pair of gloves I'm making from it. I've got the pattern written down somewhere, I just have to find it so I can make the other one...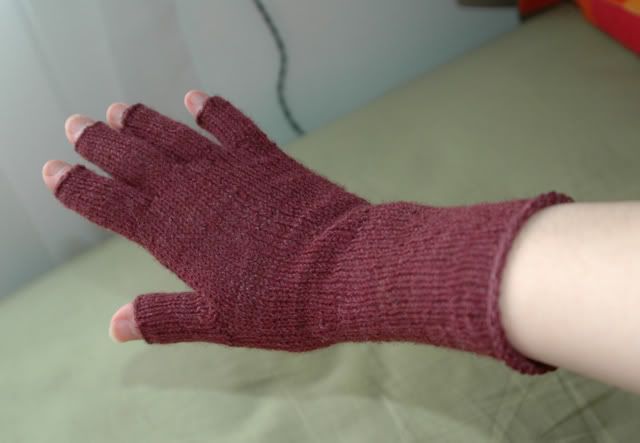 Glove!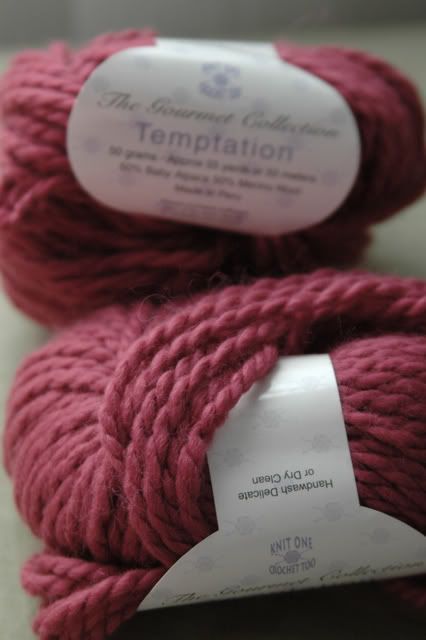 Knit One, Crochet Too Temptation (color 227), no plans yet.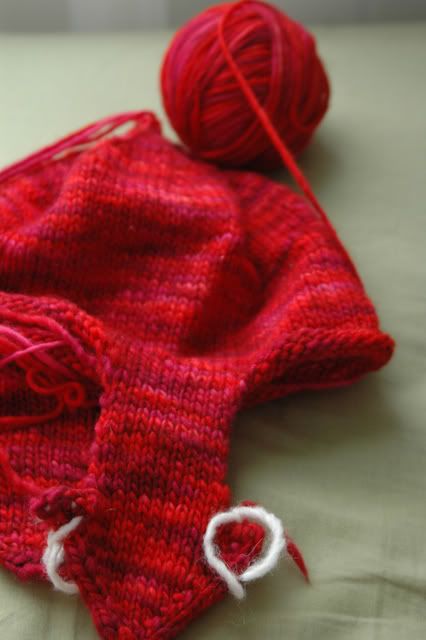 Malabrigo Merino in Amoroso, and a cutesy devil's hat in progress...I need to figure out how I want to make the horns, and locate the rest of the pattern.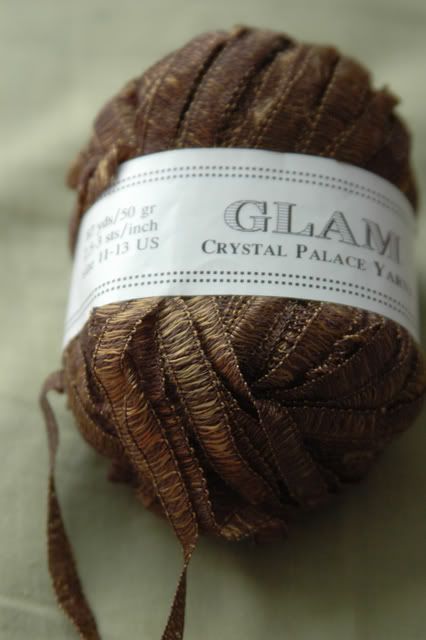 Crystal Palace Yarns Glam (color 2138)...I usually don't go for the novelty stuff but this is kind of pretty and it was on sale. Haven't swatched it yet, so what it becomes will depend on how it knits up. Maybe I'll use it for the fringe and some sort of accent on a scarf, or something.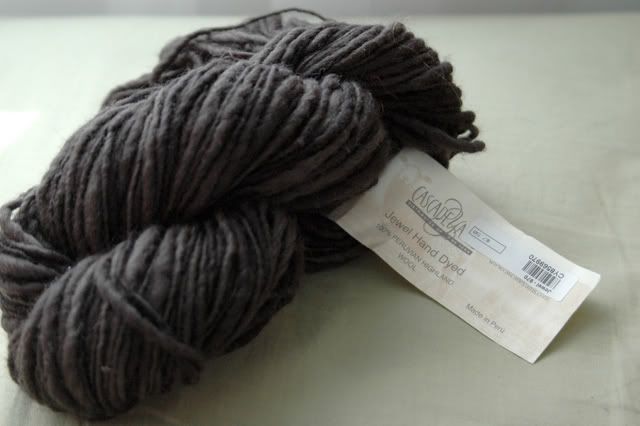 Cascade Jewel (color 9970, a dark charcoal gray)...probably armwarmers.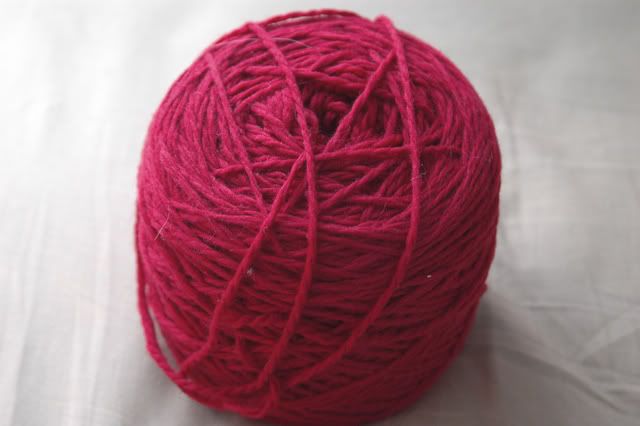 Cascade Eco Wool in some sort of red. No idea. A shrug?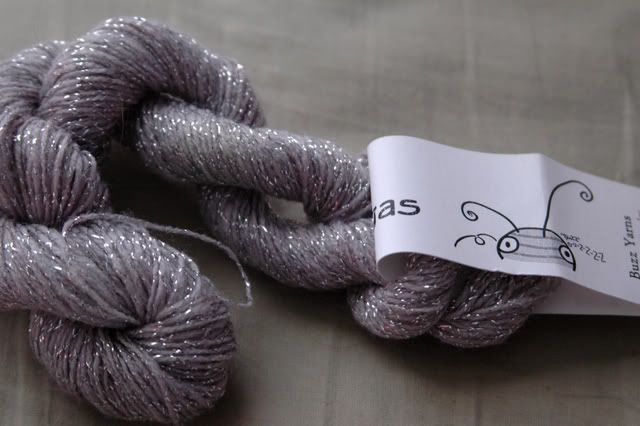 Buzz yarns Vegas in gray/silver... some sort of small accessory, more likely than not. I don't have much and I'm not sure where to get more.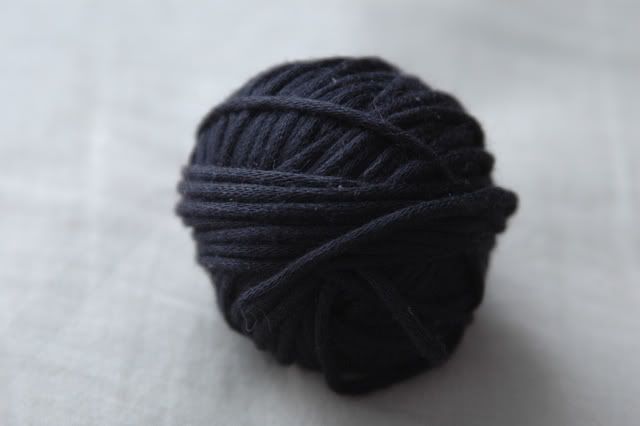 Berroco Ultra Silk, black... already used this for something that you'll likely see up in just a bit. Will probably use it for more, I really like it. I usually lean towards wools and natural fibers, but this stuff is nice.
Berroco Softwist in (I think) Palmetto...these are tagged for some small, ruffly cuffs/wristwarmers.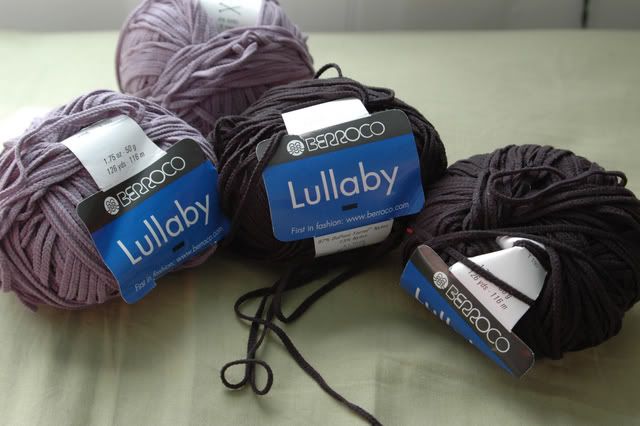 Berroco Lullaby in black and color 4208. Probably long striped armwarmers, legwarmers, or a shrug.
Berroco Boho in black and color 4276. This stuff is really cool. I tried to use the black for a thong but it had some structural difficulties I'm still working on fixing..er. The rest will probably go for a little decorative scarf, or headbands.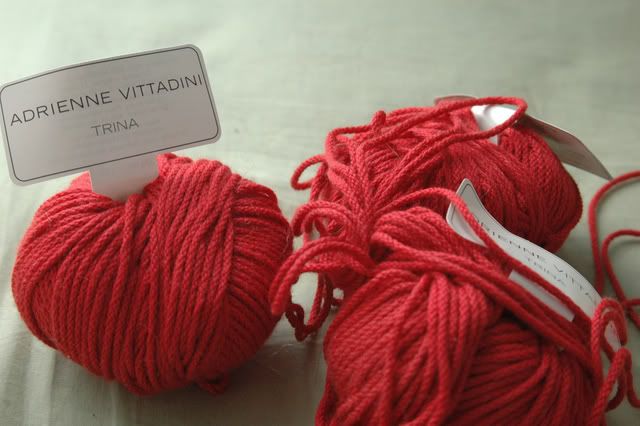 Adrienne Vittadini Trina color 112, I'm not sure where these will go yet.
Adrienne Vittadini Dianna in black...there's actually enough of this for some sort of garment, so that's likely what will happen to it. A tank/bustier/corset, probably.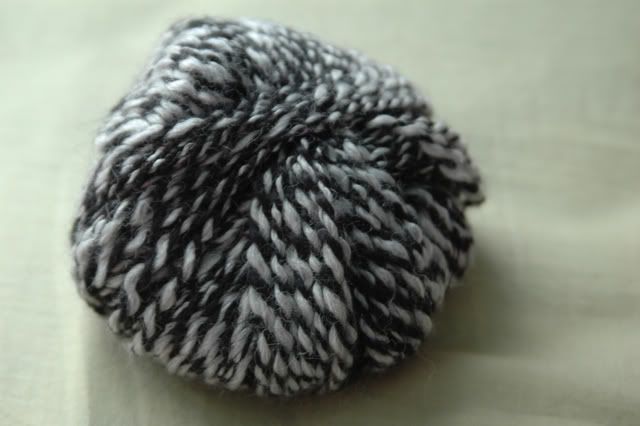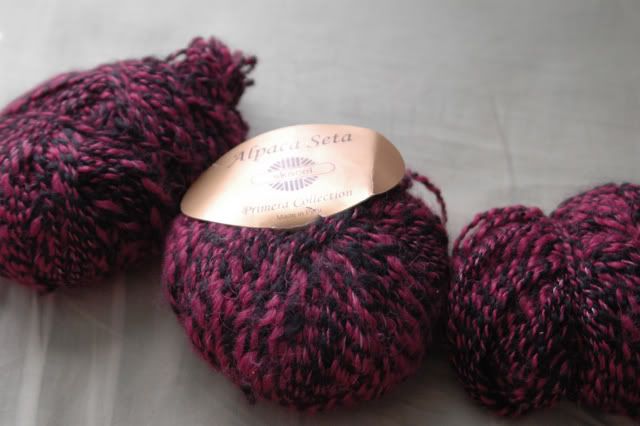 Skacel Alpaca Seta in gray/black and burg/black. I've used some of this for hats in the past... I don't know what the rest of it will be, or even if the gray will get to be included. It's very soft but the two-color ply doesn't lend itself to every situation, you know?
And that's that, for now...as much for my reference as yours :-P